Continental Coach Fifth Wheel
Road Test and Review
Fifth Wheeling in Style
Article Date: June, 2014
---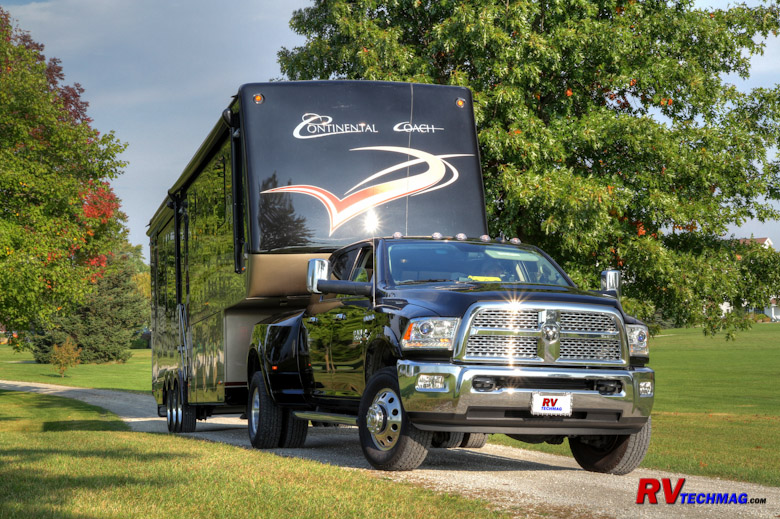 Fifth wheels are popular with motorhomers who prefer to spend longer periods in one spot. A fifth wheel brings more of a homelike feeling to the living space and a floor plan that differs from what is possible in a motorhome. Many owners prefer this arrangement but don't want to live without the level of amenities they currently enjoy in their upper-end motorhome. Fortunately, Continental Coach steps above the typical fifth wheel and builds units that emulate, and in many cases exceed, the high-end diesel pushers. Continental Coach, a division of Fork RV, is in the heart of RV country in picturesque Shipshewana, Indiana. Fork has been building custom products since 1991, and every Continental Coach is custom built for each user. You can select from a pre-engineered floor plan or allow their design team to create one specific to your desires. Every feature and amenity is selected to meet your expectations, as is the decor.
Chassis and Super Structure
Quality begins with the chassis. Continental Coach uses a dual stacked frame rail, designed with dual I-beams or an I-beam stacked on top of structural tube steel that totals 18 to 22 inches in height. The chassis rails are bridged with lateral 2- by 8-inch structural steel tubing to provide a rock-solid platform. Two- by 6-inch, full-width steel channel flooring in the main floor, and 2- by 4-inch steel tubing in the upper-deck floor provide plenty of strength and room for insulation, which totals R-42 in the main floor underbelly. The basement storage is a drop-frame design to maximize storage space. The slideout mechanisms are all above the frame rails and imbedded into the steel flooring to avoid compromising the frame's structural integrity.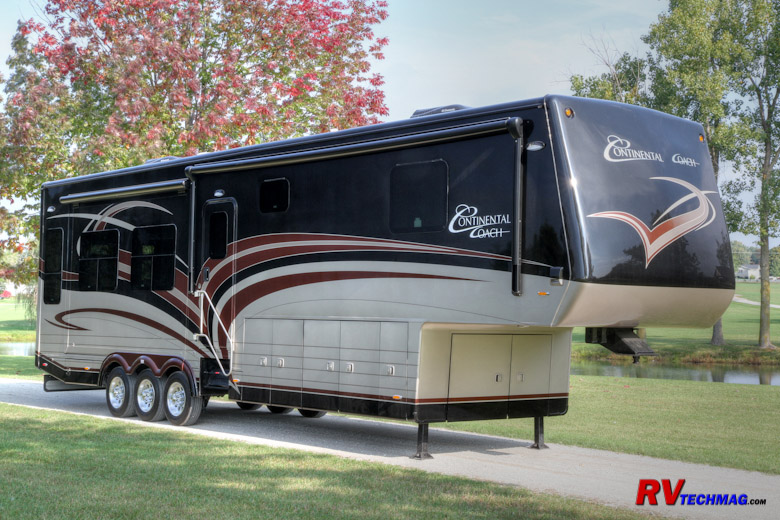 The entire chassis rides on three axles equipped with Mor-Ryde fully independent suspension equipped with 17.5-inch alloy wheels, and Goodyear load-range H tires. An electric actuator controls hydraulic disk brakes, which can be ABS equipped with the proper controller. Aluminum superstructure mounts to the top of this solid platform with 1.5-inch aluminum tubing on 16-inch centers for the sidewalls and roof. Insulation batts fill the walls, followed by .5-inch thermal foam, an exterior reflective foil wrap, and a composite interior finish panel-total insulation, R-10. The hung sidewall design calls for fiberglass sheets on the sidewalls after the insulation has been added, maximizing insulation values.
The R-21 roof consists of a single fiberglass sheet laid over 3/8-inch plywood decking, all resting on aluminum roof joists filled with foam insulation. The seamless composite fiberglass roof material laps over the sidewalls with no trim or screws along the roof's edge. A radius roof gutter system covers the seam and allows water to drain at either end, eliminating sidewall streaking. Seamless one-piece fiberglass front and rear caps provide a clean look. Frameless tinted Thermopane windows enhance the sleek design of the Continental Coach and provide lots of natural airflow when opened. The slideouts are flush when retracted and have fiberglass fenders that move with the slideouts as they extend. Clearance and taillights are classy flush-mounted LED fixtures. The dual-acting hydraulic leveling jacks by Equalizer Systems are fully enclosed in square steel tubing to offer maximum protection. You control the automatic leveling operation using a remote-control panel in a lower compartment.
Living Area
No two coaches are alike, as Continental Coaches are custom built for each owner. However, the level of furnishings and finish in every unit is the same high quality level. Continental Coach uses residential-grade fixtures designed to withstand full-time use. Galleys are generally equipped with large residential refrigerators, dual-basin sinks, and convection microwaves-all trimmed in stainless steel. You'll see solid-surface countertops throughout the RV. Floor choices range from vinyl, hardwood, carpeting, or porcelain tile. The ducted air-conditioning system quietly distributes cool, comfortable air throughout the interior.
Continental Coach places great emphasis on functionality and their floor plans demonstrate this. The interior is well lit, using LED lighting to minimize power consumption and heat, while switches are set in convenient easy-to-access locations. Storage is abundant, and large slide-out pantries a common feature in most galley designs. Amish craftsman create the woodwork and the cabinetry features gorgeous raised-panel hardwood doors with premium hardware. Drawers are equipped with roller-bearing drawer slides with full-extension capabilities. LED TVs are located in the bedroom and living areas and everything is networked to a central entertainment system area. Well-appointed bedrooms have a large under-bed storage area. MCD roller day/night shades rest in valances throughout the interior.
Numerous basement compartments in the Continental Coach include rear saddlebag storage compartments and a huge pass-through compartment near the front. In the far front of the basement are LP storage tanks and a spot for the Onan generator set. Other compartments for storage and for the various utilities are in the mid-section. Aluminum-skinned cargo bay doors are side hinged for easy access and insulated to help protect the contents from ambient temperatures. The fresh water and holding tanks are fully enclosed and heated to allow all-season operation. A whole house water filtration system provides safe water distributed through a manifold water distribution system. Water heaters may be the standard tank type or tank-less, whichever the customer prefers. Electrical needs are met by a 50-amp service, a deep-cycle battery bank, and inverters or generators per the customer's specification. An energy-management system effectively monitors power consumption and voltage levels to maintain and protect the electrical system.
Review
The Continental Coach is in a class by itself. A large portion of buyers are former motorhome owners who want to change over to the fifth wheel lifestyle but don't want to give up the level of amenities. The Continental Coach meets those needs with a well-appointed, quiet, and comfortable RV with excellent quality and attention to detail. The construction quality makes for a unit designed for full-time living with no worries about things falling apart. The rugged frame and heavy-duty running gear make for an enjoyable tow. However, any unit built this strong will have a fair amount of weight behind it, so towing a Continental Coach requires something more than a three-quarter ton truck.
Source
Continental Coach
(877) 244-6021
www.forksrv.com/continental
---
Return to Home Page
If you enjoyed this article be sure to recommend RVtechMag.com to your friends, like us on Facebook or Twitter or subscribe to our RSS feed.